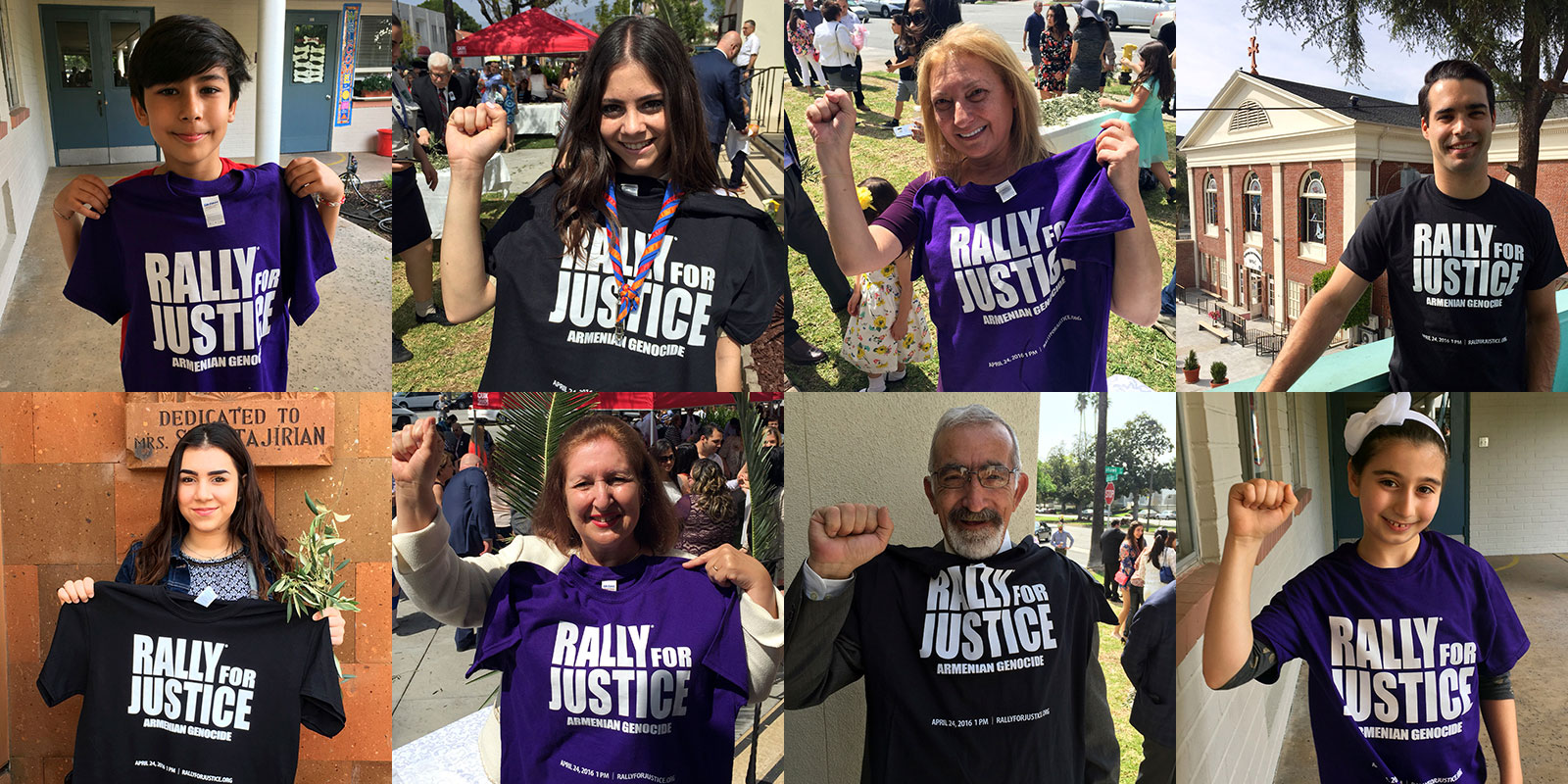 LOS ANGELES — Rally for Justice T-shirts and Closed for Business signs will be available this Easter Sunday at the following churches:
Burbank
St. Leon Armenian Cathedral: 3325 N Glenoaks Blvd, Burbank, CA 91504
Glendale
St. Mary's Armenian Apostolic: 500 S Central Ave, Glendale, CA 91204
St. Gregory Armenian Catholic Church: 1510 E Mountain St, Glendale, CA 91207
Holy Trinity Armenian Evangelical Church: 1300 E. Colorado St., Glendale, CA 91205
Encino
Holy Martyrs Armenian Apostolic Church: 5300 White Oak Ave, Encino, CA 91316
Hollywood
St Garabed Armenian Church: 1614 N. Alexandria Avenue, Hollywood, CA 90027
Montebello
Holy Cross Armenian Cathedral: 900 W Lincoln Ave, Montebello, CA 90640
Pasadena
St Sarkis Armenian Apostolic: 58 S Sierra Madre Blvd, Pasadena, CA 91107
Saint Gregory Armenian Apostolic Church of Pasadena: 2215 E Colorado Blvd, Pasadena, CA 91107
Van Nuys
St Peter Armenian Apostolic Church: 17231 Sherman Way, Van Nuys, CA 91406
T-shirts are also available at Jons Marketplace locations, Sardarabad bookstore, and online at Amazon.com and eBay.com. Proceeds from all sales will go entirely toward funding the Rally for Justice. Please purchase your t-shirt today and start wearing your t-shirts now to help us spread the word.
In remembrance of the 1.5 million victims of the Armenian Genocide at the hands of the Ottoman Turkish Government, the Armenian Genocide Committee encourages all businesses to close their stores and join the Rally for Justice. You may pick up signage showing that your business is closed for the commemoration, from the Armenian National Committee of America – Western Region at 104 N Belmont St # 200, Glendale, CA 91206.
The Armenian Genocide Committee is a unified coalition of 18 community organizations and religious entities, which lead the Southern California Armenian-American community.
Western Diocese of the Armenian Church of North America
Western Prelacy of the Armenian Apostolic Church
Armenian Catholic Church of North America
Armenian Evangelical Union of North America
Armenian Revolutionary Federation
Armenian Democratic Liberal Party
Social Democrat Hunchak Party
Armenian General Benevolent Union – Western District
Armenian Relief Society – Western USA
Homenetmen Western U.S. Region
Armenian Youth Federation
Armenian Assembly of America
Armenian National Committee of America – Western Region
Armenian Council of America
Armenian Bar Association
Organization of Istanbul Armenians
United Armenian Council of Los Angeles
Committee for Armenian Students in Public Schools (CASPS)